Planning a trip to Walt Disney World is one of our favorite things to do, and believe it or not – right now is actually a really easy time to plan your Disney vacation! There are a few new elements, like changes in resorts that are open, restaurant protocols, and no FastPass+ reservations… but all in all, the planning system has been revised to make it fairly streamlined to make your own Disney reservations quickly and easily!
Our next Disney vacation is coming up in June 2021, and I thought it would be helpful to share some of the basics to Disney trip planning that we used to plan our own trip – in this ultimate guide for Walt Disney World trip planning!
All of my best tips and tricks right here on the blog – and the best part is, it's free! Let's start with the very first things you'll need to consider, and work through all of the main points of planning!
First Things First
As you start to think about important first determinations, like your party size, time of year to visit, and which Disney resort you may want to stay at – I recommend taking some time to familiarize yourself with the Walt Disney World website and My Disney Experience. This is where you will find all of your planning information, be able to share trip itineraries with family members, and score reservations for dining and other events!
I always spend a bit of time looking around the website, checking for Special Offers, and looking at resort availability. Then I dive into the details for the trip!
Party Size
For our family of four, it is fairly standard for it to just be us when we are traveling, although we have done a few trips with the grandparents! Think about your party size and who will be going on the trip, because this will impact your touring plans from start to finish. Including the size room you may need, what kind of transportation you may prefer around the resort, dining options, and more.
Planning a multi-generation trip is great fun, and there are lots of ways to make the Disney experience fun for the whole family! We love riding rides and having special meals together, your family may find other unique ways to connect the whole family while at Walt Disney World.
Time of Year
After you know how many people will be traveling with you, you'll need to consider time of year to travel. You may be blocked into a specific week for a Spring Break or Fall Break, or you may have some flexible timing during the summer season or other free time. Travel patterns do pick up with schools are not in session, and in addition to the holidays, Spring Break and Fall Break have become two busy times of year to visit.
Weigh the factors of when you're planning to visit with how crowded it may be, the busiest time of year to visit being during the Christmas holiday. If you are planning on wanting to see the holiday decorations but have flexible travel dates, going towards the beginning of November may yield a relaxing trip, that is less busy and still has the holiday vibes you're looking for. Regardless of which time of year you go, there are always pros and cons, and in a different post we can deep dive the different times of year. However if you've watched our videos you probably already know we tend to go in the Spring and Fall a lot, because our trips often coincide with a Spring Break or Fall Break to easily match up with the kids' school schedule.
Number of Days
Once you know your party size, and time of year you'd like to travel – it's time to decide how many days you'll stay! Our family typically takes a week long vacation, because it gives us time to make it to all of the parks, a bit of relaxation time, and travel time. You won't see every thing there is to do at Walt Disney World in a week. (We have been tens of times and still haven't seen it all – so go into it with the expectation of trying to get to your "must sees" and "must dos"… not everything!) The right time length will vary for every family, but whether you stay for 3 days or 2 weeks – think about how many days you have to spread your touring plans across, as it will be important to the next step as well!
Picking Your Resort
Knowing your party and travel stipulations will lead you naturally to the next step – checking to see if your preferred resort is available during your travel time period, or checking on general resort availability.
We love staying "in the Disney bubble" during our trips, because we feel like it gives us the best overall experience to be immersed in the magic. If I don't know specifically which resort we would like to stay at for a trip, a lot of time I will price out 3 resorts at different price points and weight out the pros and cons of each resort. The Walt Disney World website makes it easy to compare prices of different resorts, especially once you have your trip time narrowed down to one time period.
Order of Theme Park Days
This one may see a bit premature, but this is my preference and also the way I recommend to people planning their own trip – is to next plan the order of your theme park days. Pick the order you want to visit the theme parks and if you'll visit any parks multiple times, also whether you'll have rest days interspersed in-between or not. I've found that the easiest way to do this is to write it out on a piece of paper with the date going down the left side, and then writing in the theme park or activity for each day. Which makes it easy to reference when you go to make your reservations!
Download my FREE Magical Vacation Planning PDF here: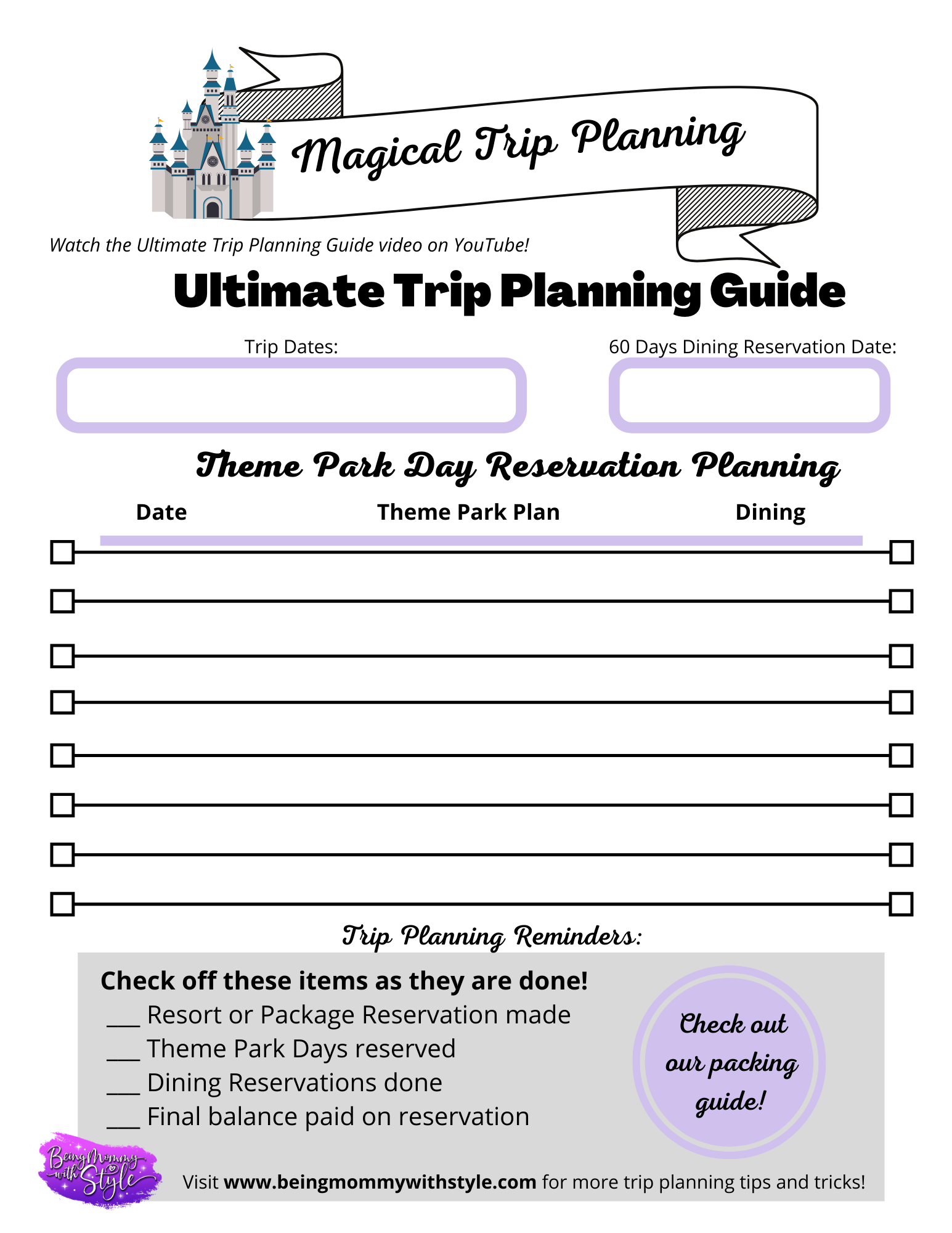 Making a Resort or Package Reservation
After you've done of the pre-planning, it's time to actually make the reservation! You can hold your reservation if you're more than 30 days out from your trip time with a $200 deposit, and conveniently make payments in My Disney Experience over a period of time. This works great if you want to pay a set amount over a period of time, or you can always pay for the trip all at one time as well.
MagicBands no longer automatically come with your reservation and you can pay a small fee to have them added them on to your order. The great thing is, these bands are reusable so if you've been on other trips, you can use those bands over and over again. We have ample bands, so we plan on using those!
Selecting the resort from the list page will put that reservation into your cart, and it is quick and easy to get it reserved. After you have your reservation, it will immediately show up in your My Disney Experience app and online system. You're not done though… You need to immediately head to the next step!
Park Day Reservation System
Right now at the time of this article, it is imperative to reserve your Park Day! This can be done in the Theme Park Day Reservation System immediately after you have tickets loaded into your account. Check availability here! Use the Order of Theme Park Days and schedule that you built above, and go down the list selecting your Park Days!
Screenshot of the Theme Park Reservation System
You need to have a Park reservation for each of the first theme parks you will be entering for the day. You do not need to have a secondary reservation for a Park that you plan to hop to, and instead will have to find out after 3pm whether that park has availability or not on the day you plan on entering.
Choosing Your Dining
Reserving dining can be done in any order, and even before you have your package reserved – but I've put it here in the planning flow, because it works best to know for sure what theme parks you'll be in on which day, to decide which restaurants you want to eat at!
Right now you can reserve your dining reservations at 60 days in advance of your stay, so depending on when you've made your package reservation, you may need to do this at some point in the future. (For example, our resort reservation is in June so our dining reservation date is in April!) This is different from past planning because you used to be able to reserve dining some 180 days in advance! Gone are those days, and there is a shorter window to get your dining in order.
As always, if you don't get your top dining choices right when its time for you to reserve or for some reason you forget about your dining window opening – keep checking back! Dining opens up all of the time, and especially as you get into the two weeks prior to your trip, you'll see people dropping dining reservations and moving their schedules around. Keep checking, all the way up to the day and time you need the dining reservation!
More Fun on Your Trip
As with everything at Disney, there are lots of "extra" ways to have fun in other ways too! VIP Tours, Backstage Tours, Disney Springs, water parks, and more – more information about all of these things can be found on the Walt Disney World website. On one of our next trips, we'd like to try the horseback riding experience! Something cool that we haven't tried before, and would make for a unique experience on a trip.
Things you won't have to worry about include making FastPass+ reservations – those are not available right now!
Last Minute Planning
When it gets closer to your trip… there are a lot of considerations and this is one of the most fun parts of the trip planning! I enjoy finding a variety of items for our trip on Etsy, so we have unique outfits and accessories for the different theme park days on our trip. You can check out some of my theme park outfit suggestions for moms in this post.
No matter what you wear, comfort is key at the theme parks! So I always make sure to pack comfortable shoes – enough pairs to rotate each day – extra socks, and extra changes of clothing in the event we want to change clothes during a mid-day break. Before our Disney vacations, we share all of our packing and planning tips. You can watch a number of our packing and planning videos on this playlist!
No matter the time of year you chose to go, resort you chose to stay at, or theme park day order you chose – I hope you have the most magical vacation possible for your family and that this guide has been helpful for your planning! Make sure to check out our YouTube Channel, Being Mommy with Style, for more helpful Disney trips, hacks, and Disney vacation vlogs!

** This was not a sponsored post. All opinions are my own.