Some links within this blog are affiliate links in which I make a small commission from if you purchase from the link after you visit. Thank you for supporting my blog! 
Picking outfits that are fun, stylish, and comfortable is an important part of Disney trip planning! You don't want to be walking around the theme park all day long in shoes that hurt or an outfit that is too hot – so a bit of planning prior to your trip can go a LONG way!
I've picked out some of my favorite Disney Mom outfits that I will be wearing on our Fall 2020 trip to Walt Disney World, to share "What to Wear" on your next Disney trip!
My Disney outfits have to fit a few criteria:
Be comfortable to walk a long distance around the parks!
Be cool to wear around the parks – I'm very hot natured!
Be something fun, that I may not always wear at home! (It's vacation! Live a little!)
These are some of my favorite looks, that I put together for our most recent family vacation to Walt Disney World.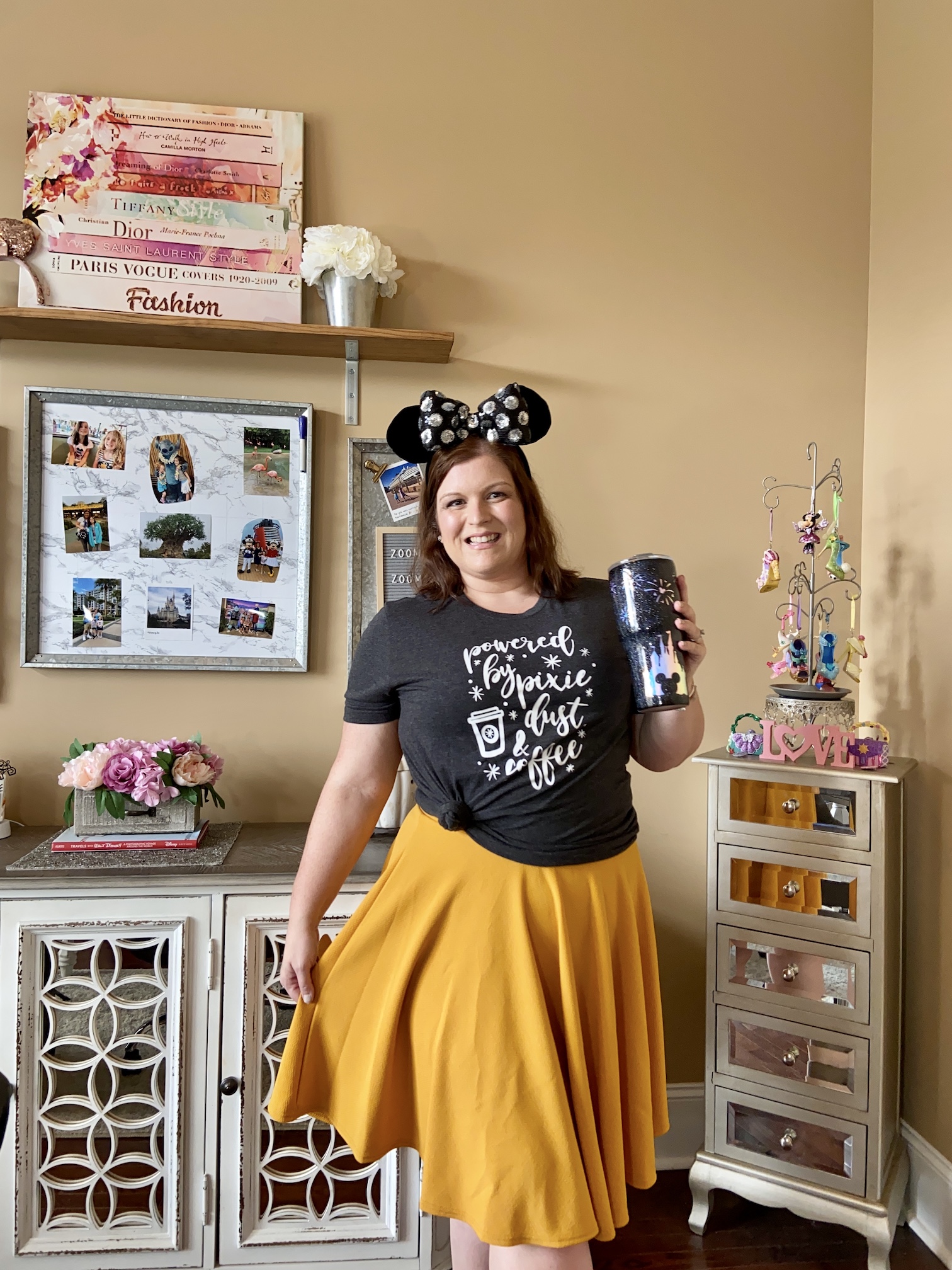 These outfit ideas are versatile and you can use the pieces in a number of different ways. I especially love the skirts from Amazon, that I have purchased in several colors! These are handy to wear as a part of holiday outfits or a Disneybound! My favorite colors are the gray, yellow, lavender, and light blue – and these can be used as a part of a number of different types of Disneybounding ideas!
These adorable dresses from Wonderland Wishes Facebook boutique are light and airy, and perfect for hotter months in Florida. I picked them out in three distinct prints – Disney Dogs, Vintage Disney, and autographs! I paired them with some cute belts from Amazon, and Her Universe belt. The Amazon belts are light and I can easily wear them around the parks during the day – the Her Universe belt is well made, but I recommend wearing it to dinners or special events as it is a bit heavier.
I always pick sensible shoes to wear around Walt Disney World, so that way I don't have trouble adding on the miles each day. (My feet are already tired enough after walking 18,000 to 20,000 steps per day, no reason to add to it with unsensible shoes!) My picks are typically Nike running shoes or Asics running shoes, I've found over the years that I cannot wear shoes that are full leather – they are just too hot for my feet in the Florida weather.
Of course some of my favorite outfit accessories are… mouse ears! I often bring pairs from home to match my outfits, but these can be a fun souvenir that you pick up while you are visiting Walt Disney World too!
Check out all of these versatile pieces this this "What to Wear" video on my YouTube Channel:
Here are some of the other great items I've found on Amazon to purchase for Disney vacations, on my "Disney Ideas List"! (Affiliate link – thank you for supporting my blog!)
I love creating a bit of Disney magic at home before we go, so there are a number of things on the list to get you pumped up for your upcoming Disney vacation! I enjoy using a homemade Disney countdown, and also ordering books like the "Hidden Mickey" series, to give us something to look forward to doing on the upcoming trip.
While you're here, download my free printable Disney Packing List to use as a checklist while packing for your trip!
Hope you enjoyed seeing some of my favorite outfits to wear at Walt Disney World! Let me know if you have any questions!

** This is not a sponsored blog. All opinions are my own. Some links may be affiliate links in which I make a small commission from if you purchase from the link after you visit. Thank you for supporting my blog!