After a whirlwind road trip to Walt Disney World in October 2020, these were my initial thoughts on planning a trip to Walt Disney World during COVID-19 restrictions. We had primarily been staying at home, so this was a big step out for our family. See our first take on how we felt social distancing went while we were there, mobile ordering, wearing masks, line waits, and more!

Below is a trip recap I've shared in a few groups and a preview of what I'll talk about in my trip recap video! I thought this would be share in blog form, to keep my thoughts here as well. 
I will do a full trip recap video as per usual – but here are some thoughts on our trip! We went into it knowing that it would be a "different" type of trip, so we tried to keep our expectations low and generally just wanted to see what it was like at Walt Disney World right now under current conditions.
Thoughts on Pop Century Resort
Pop Century – we have heard SO much back and forth on this one, I knew I wanted to stay at it once to be able to weigh in when I do resort reviews, as to what our thoughts on it were. Rooms were clean and the kids LOVED the big characters/decor around the resort. The rooms were a bit smaller than what we were used to – but if you are on a "mainly in the parks/never at the resort/just sleeping there" type of trip – they work well for that! We booked the trip with very short notice – so it worked well because it had availability and if for some reason we had to cancel at an extreme last minute or walk away mid-trip, you're obviously out the least amount. This was the right trip to check the box to stay there.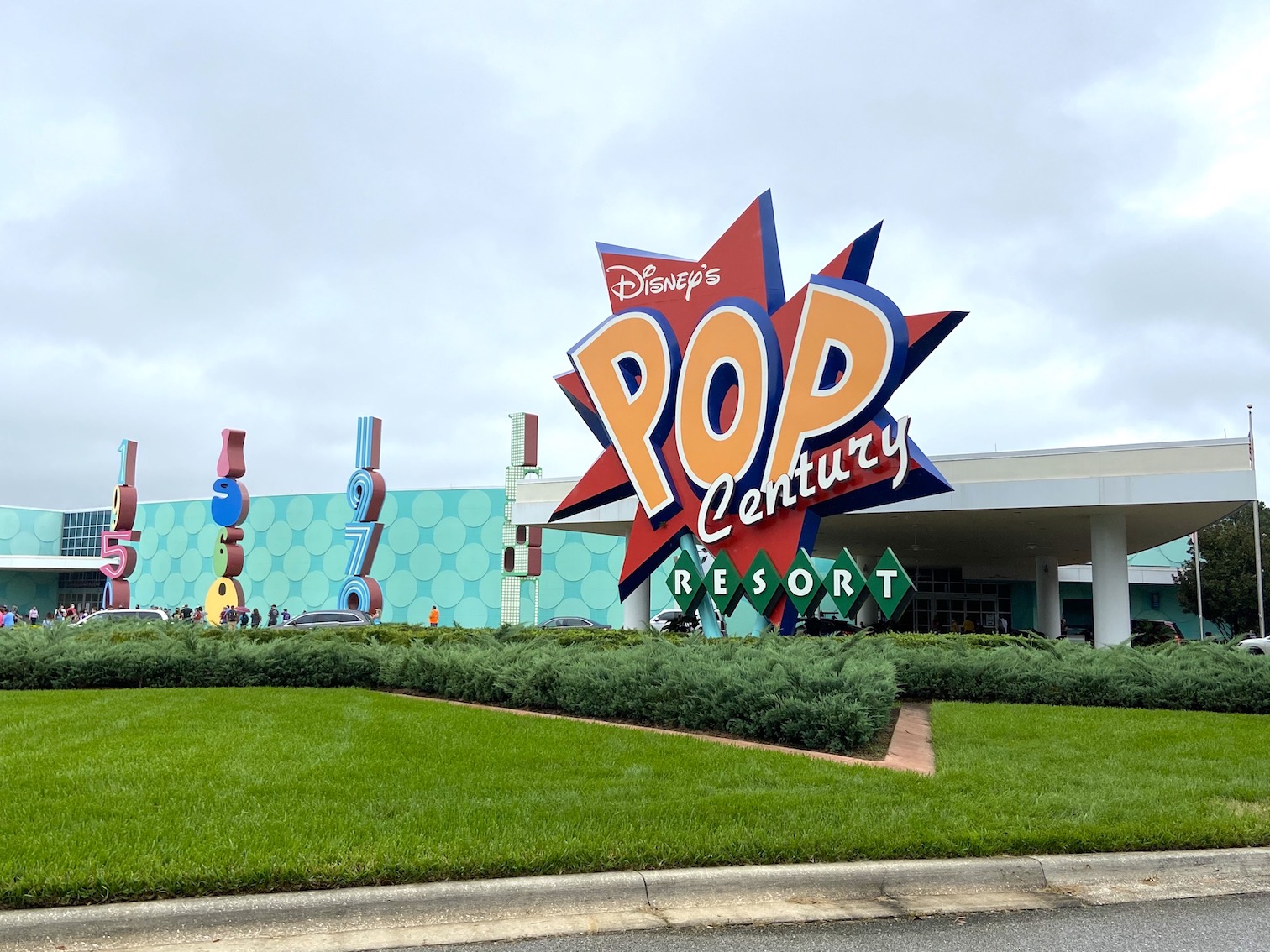 Lines for Transportation
Lines for transportation in the morning at Pop for all Disney transport (both the buses and using the Skyliner) were no joke! We skipped the lines and drove our car. If you don't have a car available – plan an extra hour in the morning for transportation. While talking with different guests in the food court area, most people reported building in at least an extra hour to be able to make it where they were wanting to go in the morning and making it there on time. Also should be noted, although we didn't personally try getting an Uber – it was mentioned to me that this was also the case on waiting for an Uber to arrive as well!
Also, it should be noted because I've received this question a number of times both while we were at Walt Disney World and on the YouTube Disney vlogs – currently, if you are a Disney Resort Guest (staying on property at a Disney Resort) you do NOT pay for parking when you drive yourself to the theme parks. So if you have a car on property, this makes it convenient to use your own transportation to get to the Parks at your desired arrival time. You still need to allow travel time to get your destination (we recommend using Google Maps to map it out the night before so you know where you're going!) and then build in some time for some lines at the parking entrance.
When you arrive at the parking entrance, you will show the Cast Member your MagicBand and they can see that you are a Disney Resort Guest and will wave you through. In the mornings we allowed 30-45 minutes for transit time using our own vehicle, so I would consider this faster than relying on other sources of transportation.
Social Distancing
Social distancing in the ride queues – we LOVED this. They can keep this! I hate having someone all up in my back in lines. Lines look scary long because of the 6 feet of social distancing but move quickly and we found most lines were shorter waits than what was posted. Your results may vary, especially if you go in a busy time of year towards a holiday. 
As far as being able to social distance in general, staying at least 6 feet away from other parties – we felt in most instances we were able to do this. Mobile ordering areas were set up to keep people separate. All front line Cast Members are wearing a mask and shield just in case you are within 6 feet of them, and mobile ordering pickup areas inside the parks had plexiglass surrounds, as well as other guest service areas.
We only had two instances where we felt we were not able to adequately social distance to our liking, one being at the main pool. Which was easily remedied by going to a smaller, "quiet" pool where we could spread out from other parties. The Bowling Pin pool in the '50s area at Pop Century Resort quickly became our preferred pool!
The other instance was a bit tougher, and made me realize that vendors at Disney Springs may have slightly different protocols from Disney owned restaurants. At all Disney owned and operated restaurants we felt adequately spaced out, servers were wearing plastic shields, and we felt like we could keep a distance from other parties at all times.
While at a dinner at presumably a "non-Disney owned" restaurant located at Disney Springs, the tables were noticeably more crowded with more people in one space. Getting to and from the bathroom (which of course Natalie had to go MULTIPLE times while we were there) I felt like it was impossible to social distance. Our meal also took around 2.5 hours to complete, so we were in the space longer than any other restaurant that we had been in. The food was great, but in the future under COVID conditions – I will make a point of only booking sit down meals at restaurants located within Disney Resorts or directly inside one of the theme parks. I think this would be the most comfortable solution for our family.
Masks were not a big deal. We wore disposables and changed them out regularly. I wanted to wear masks, all day, in the parks before making this call… but honestly we forgot we had them on most of the time. Also it was BLAZING hot, so I assume it would be even more pleasant at other times of year. Cloth masks were hotter to wear than disposable masks in our opinion, and we gravitated towards the disposable masks for most of the trip.
Character Appearances
Character pop ups – LOVE them! Hope they keep them and we would never stand in line to meet a character again!
We saw a number of character pop up experiences or character calvacades while we were on our trip! At Disney's Animal Kingdom, we saw floats at different times floating down the river flowing through the middle of the theme park. A few times at Disney's Hollywood Studios cars carrying different classic and Disney Junior characters came driving through.
Magic Kingdom had a number of different pop up character experiences, including individual Halloween floats coming through with "Boo to You" music playing, characters waving at the train station at open and close, and the Cadaver Dans coming through on a trolley to delight guests with a song.
These pop up character experiences were great surprises and we thoroughly enjoyed them!
Mobile Food Ordering
We liked the mobile ordering and found it easy to use. We just had a few app glitches a few times that got sorted out quickly, overall we enjoyed using mobile ordering.
A few tips for mobile ordering when at your resort – get your order together while you are still in your resort room and submit it. If you get the order started while you walk over to the food area, this will take some of the wait time off of getting your food. At Pop Century Resort, we found the mobile ordering was fairly quick in the morning. In the evenings with all of the theme parks closing at earlier times, this pushed a larger group of people back to their resorts or to Disney Springs as the only options for later evening dining.
We preferred getting sit down dining reservations for dinners, but the one evening we did try to do a mobile order for dinner at Pop Century after the theme parks were closed, it took about an hour to be prepared. So be aware, that wait times may vary depend on traffic patterns and time of day.
Planning dining
One point that didn't occur to me until after we were in the situation. Restaurants at Disney Springs are largely operated by vendors that don't have the same exact protocols as Disney. They were wearing masks but did not have face shields at some of them and some of the restaurants seemed over crowded. As many times as we have been to Walt Disney World, and this point didn't occur to me until we were in the situation.
Going back during COVID restrictions – we will ONLY be eating at Disney Resorts or inside the Parks. No more Disney Springs dining until this situation is over.
The One Drawback
The heat ☀️🥵 If I could have ordered slightly cooler weather… that would have been great! I had a heat reaction to the sun and heat like I've had on a few other trips and ended up having to buy legging to cover more of my skin. Ironically two of the times I've had this heat reaction were in October and November now! I will talk about this one and how I combat it in an upcoming video, because I may not be the only person that suffers from this when going to Disney. 
Our Thoughts Overall
Overall… the magic is there. Things are different, yes – but we had fun and I could do trips like this for years with no complaints. This was our last trip at a Value for the foreseeable future and we are planning on starting to stay at our list of resorts that we haven't stayed at before (hubby wants to try Wilderness Lodge apparently, I found out last night) and this was a good trip to check Pop off the list. I can see why people like staying there, it fits a certain type of trip and I liked the food court/shopping area. The parks are still fun and Cast Members are going out of their way to make magic.
Our best day was probably at Animal Kingdom but that was because it was not as HOT and we had some cloud cover which made it a pleasant day. We play mini golf one day which was a hoot to watch Natalie attempt to putt. (Fore!) And we had plenty of pool time as well. Magic Kingdom was a great day and we ate all of our meals in the park, and rode a number of rides. All in all, it was a good trip and I would do it again!  
Watch my full trip recap video on YouTube:
Speaking of that, you know the level to which we have basically been at home during all of this. We felt good about the precautions they had in place, mask wearing, distancing, sanitizing stations, extra PPE for Cast, etc. The only two times we didn't feel social distanced were the two times I mentioned above. In the Parks and restaurants we went to at Disney Resorts, we felt comfortable with the table spacing and visible cleaning. The trip had Disney magic with a social distancing twist, and it was exactly what our family was looking for in a vacation right now! 
Let me know if you have any questions!

Watch our full Walt Disney World vacation playlist on YouTube:
** This is not a sponsored blog post. All opinions are my own.