It's time for a Disney Resort review, and I've been looking forward to reviewing this resort for a while now!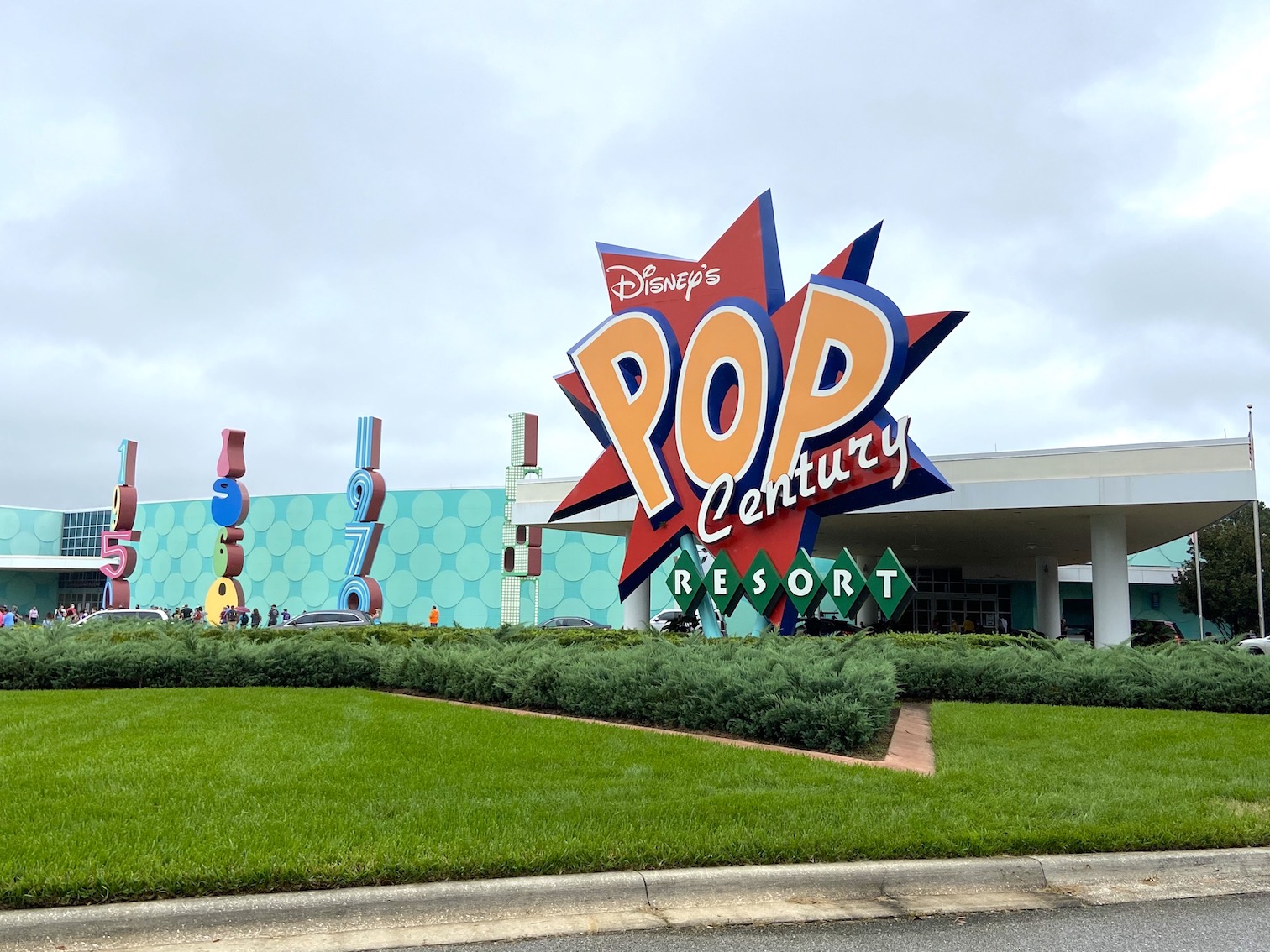 Pop Century Resort has been one of the most widely talked about resorts in the comments of my YouTube videos and I thought it was time to see what it was all about! Many visitors to Pop Century (or "Pop" as it is affectionately referred to in Disney groups online) report that it is their favorite resort to stay at, and that they return to this resort time after time. Although our family isn't particularly into celebrating different decades, I knew I wanted to see what kept people coming back to this value resort time and time again!
There is also a certain segment of viewers that have the opposing view to Pop Century Resort, and a few in the middle ground. It seemed to me prior to visiting that this was one of those resorts that either fit your family really well, or perhaps just didn't for particular reasons. I was ready to see Pop Century for ourselves, and be able to compare it from the other Disney Resort hotels that we have stayed at as well!
Let's go through some of the stand out reasons for staying at Pop Century Resort!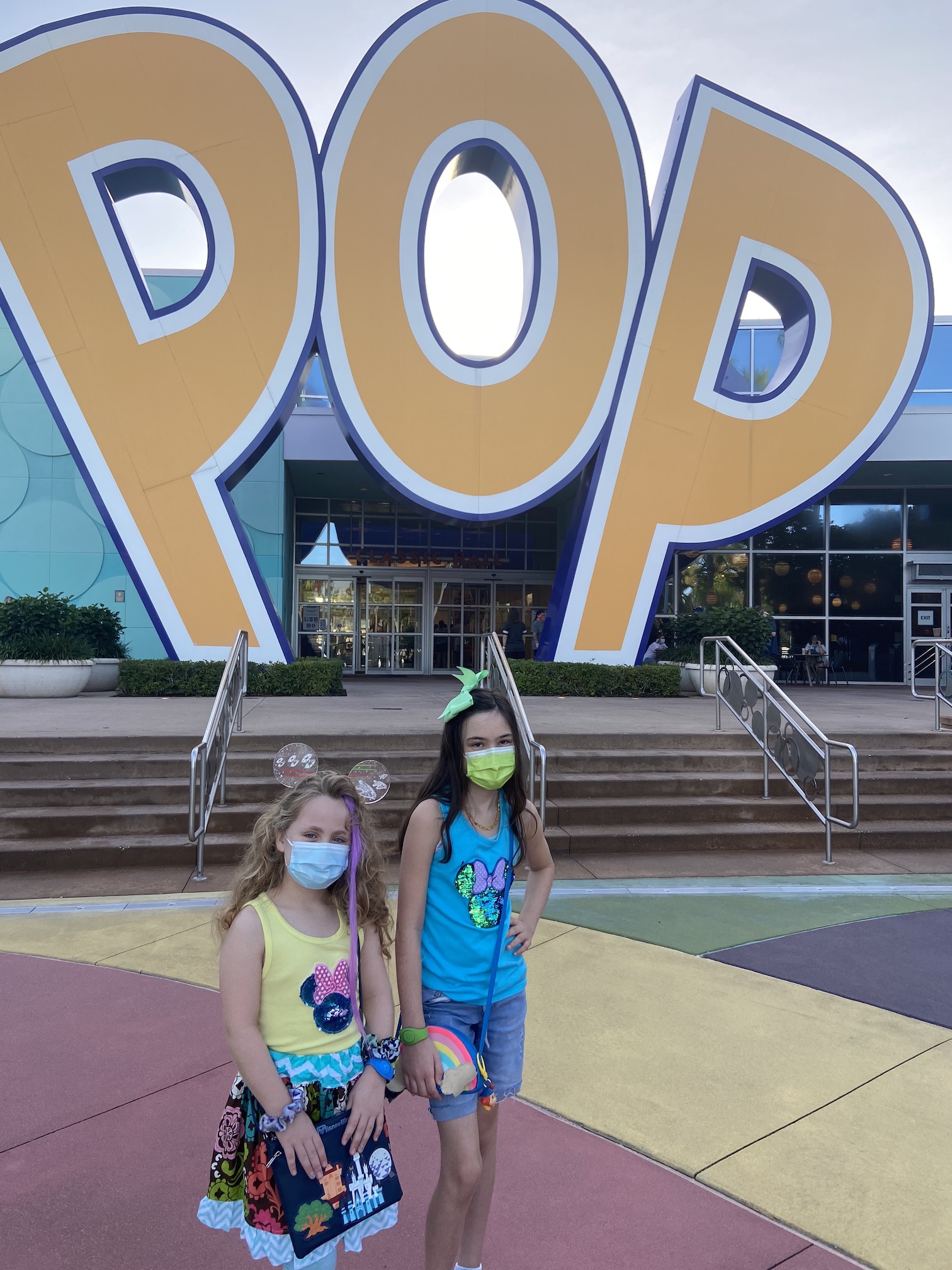 Great Price
Right off the top, of course a big bonus to staying at Pop Century Resort is the right price. This resort is a Value category resort, out of the Value, Moderate, and Deluxe tiers, which means you get a value experience at a good price. Staying at a Value Resort can be very beneficial for trips where you will be in the theme parks the majority of the day, are looking for mainly just a room where you can "hang your hat" at the end of the night, and solid choices for food and entertainment on site at the resort.
Value resorts also have more rooms, Pop Century Resort actually has 2880 rooms spread across ten buildings, so this resort has a lot of capacity! What this means when it is time to book, is that you can typically find a room available at Pop Century Resort, even within short notice, and at a great price.
Value prices vary depending on availability and time of year, and getting a special promotion of your room or package rate will keep lower the price as well. You can expect the price for Pop Century Resort to be within the $150 to $250 range per night room rate on average. Different times of year may be outliers against that, but this is the average I've seen it come up when pricing out our own trips.
Fun Theme
While I said that our family wasn't particularly into celebrating different decades prior to our visit, we found the theme at Pop Century to still be very fun! My girls, currently ages 8 and 10, still love the giant theme decor that can be found at the Disney Value Resorts, and really loved seeing the bright theme around Pop Century.
Watch the girls' reaction to arriving at Pop Century in this vlog!
We stayed in a preferred room located in the Sixties area, so it was close to the pool, shopping, dining, and Skyliner hub. We thought the location was great and enjoyed the different large decor items, especially near the Hippy Dippy Pool.
The other area that our family ended up visiting a lot was the Fifties area, we found we preferred the Bowling Pin pool which was a bit quieter to visit. We also loved the giant juke box and Lady & Tramp large character decor items. So I guess we do actually have a preference for a decade after all!
Big Pools
We found the pools to be great fun on our visit to Pop Century Resort, and tried out both the Hippy Dippy Pool and Bowling Pin pool.
Out of those pools, we found that the Bowling Pin pool ended up being our favorite and we returned to that pool anytime we wanted to go swimming. The Hippy Dippy Pool was fun, however since we visited while social distancing was in place we did have to wait in a line to get into the pool area because it had reached capacity. After getting inside and hopping in the water, we decided it did feel pretty crowded – so we ventured over to the Bowling Pin pool.
We found the Bowling Pin pool to be a bit quieter and still a great size. All of this being said, the Hippy Dippy Pool is a big size pool and seemed very fun, however while social distancing having more space to ourselves was important since you do not wear a mask in the water.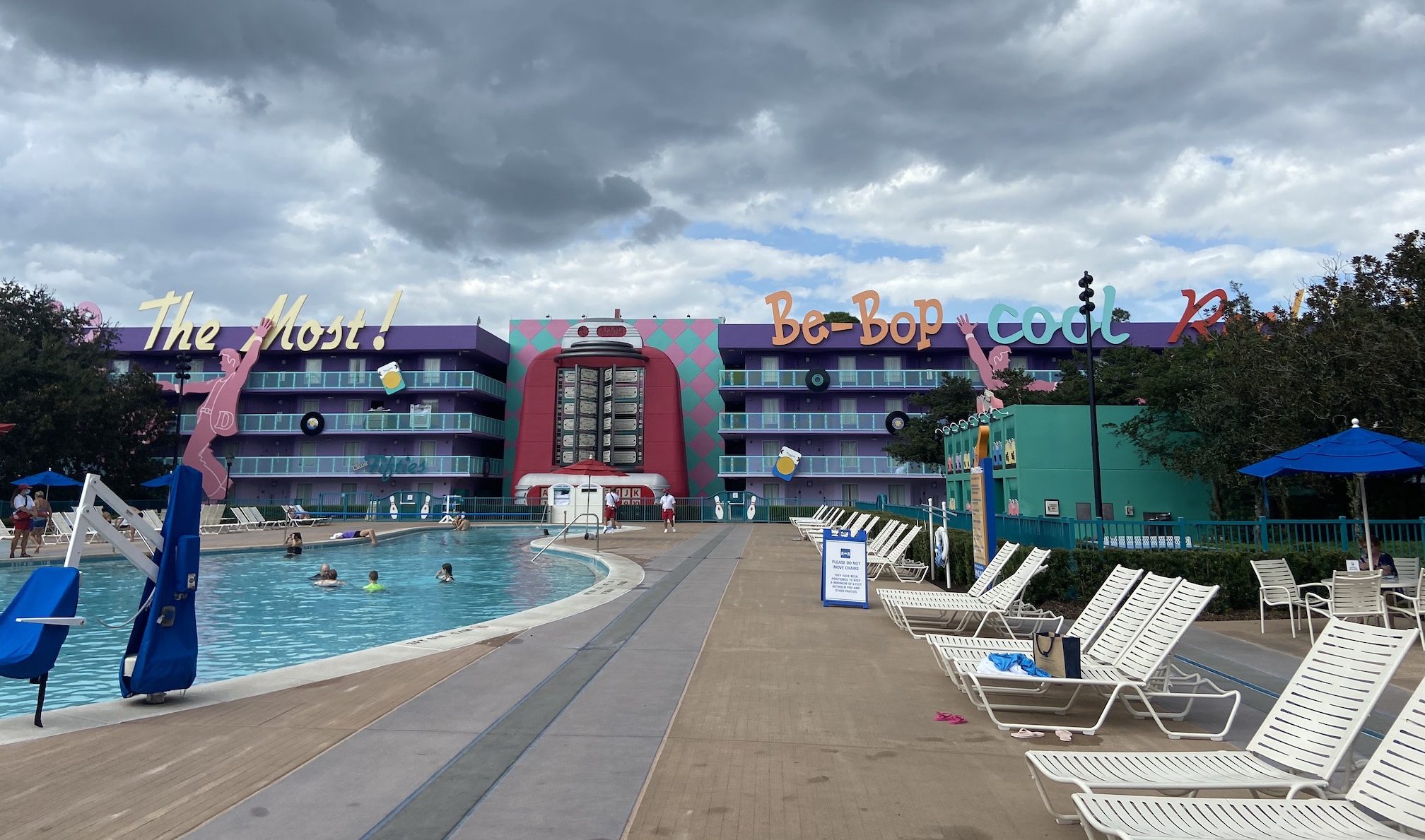 It should also be noted that you wear your mask to the pool area and also when you are walking around the pool, you just take it off before getting into the water. So keep that in mind if you visit while there is still a mask requirement in place.
Well Rounded Food Court
The food court at Pop Century Resort was another item that we had a wide variety of comments on, and that people were very interested in hearing our take on after we returned home!
Personally, I thought the food was great for not only being a limited selection for mobile ordering but also being quick service. We thought the mobile ordering system worked well at the food court area, and only had one night after all of the parks had closed that there was quite a bit of a backup with people waiting for their food. Mornings seemed very smooth and efficient to be able to mobile order and get our food quickly.
Some of our favorite items we ordered were the pizza family combo, the cheese pizza was large enough to feed our family and still have leftovers! It came with a salad and breadsticks. We also tried the turkey sandwich which was a hit with our family, my husband appreciated that there was a meatless option on the menu, and the kids pretty much eat chicken tenders at every meal!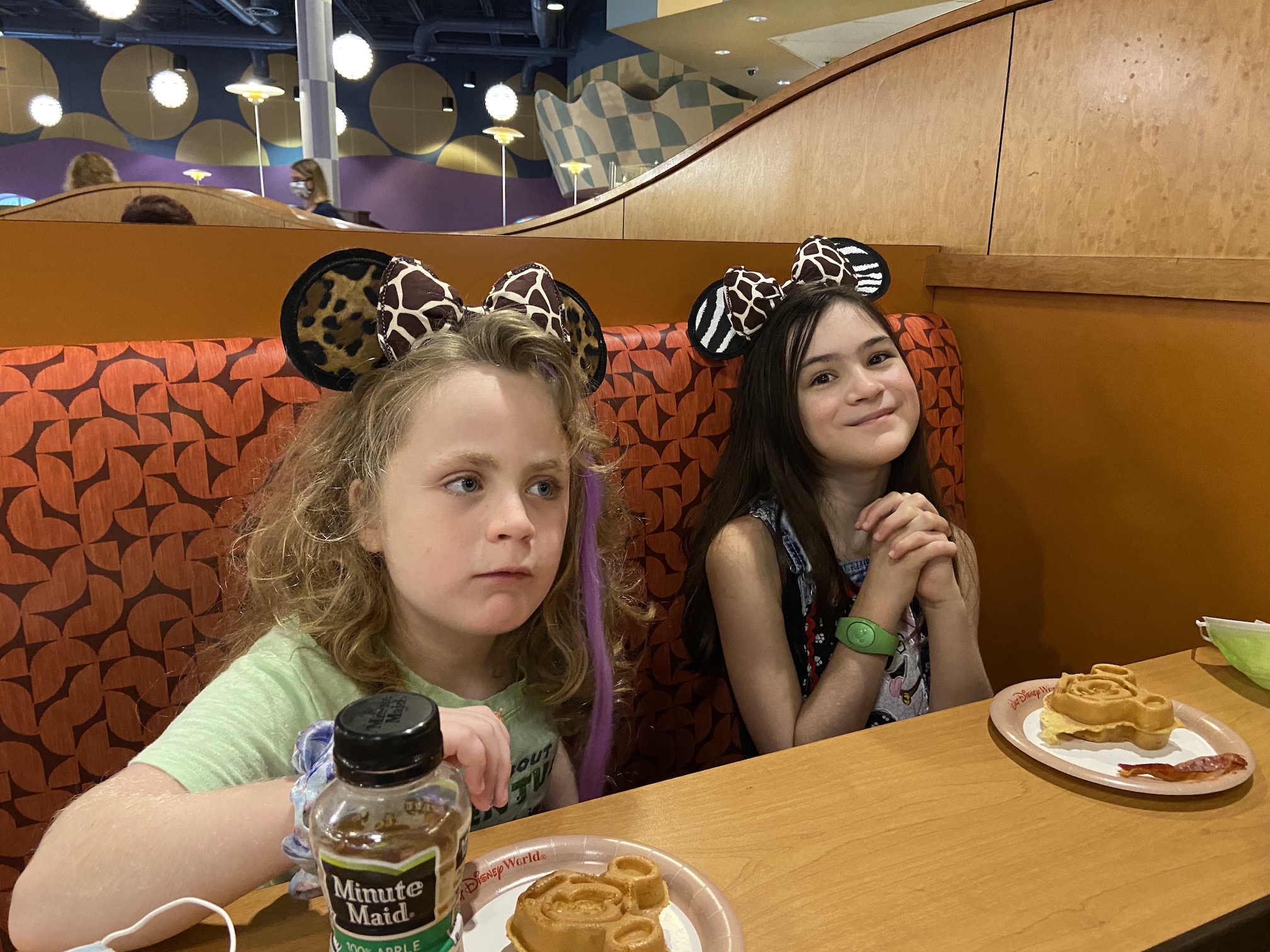 In the mornings, our family does really well at the resort quick service because we usually find that splitting a few meals between all of us is more than enough food. Our favorite combination on this trip was the Mickey Waffle Bounty Platter, Kid's Mickey Waffle Breakfast Meal, and the Ham, Egg, & Cheese bagel. These items combined made a great breakfast that came in under $40 with beverages for everyone!
Easy to navigate
I felt comfortable at Pop Century very quickly and since our family has stayed at Art of Animation before – I immediately felt the similarity between the two. In fact, you can even catch me saying a few times in the videos, "when we head back to Art of Animation" – and then I catch myself!
Moving around the resort (and Art of Animation quite frankly) is very intuitive and because of the large theme elements, you can find your way around quickly. I only mention this because for other resorts, primarily in the Moderate category, that have a more subdued decor that looks similar from section to section or multiple bus stops to figure out which one is "yours", that can be a negative in the navigation category. In those situations, don't forget to rely on the mobile app. Disney has made it easy with their My Disney Experience app to always be able to find your way around.
Skyliner
Being close to the Skyliner was definitely a benefit on this trip. We used our own vehicle as transportation in the morning, but it was very convenient to hop on the Skyliner to make a quick trip back to Pop Century in the middle of the day. We enjoy staying on the Skyliner line and now have stayed at all of the resorts adjoined to the Skyliner. Any of the resorts are great picks and put you within close proximity to Disney's Hollywood Studios and EPCOT.
Do note that the Skyliner lines from both Art of Animation/Pop Century and Riviera come together at Caribbean Beach Resort. So in the mornings or other busy times, you may find that there are lines to get on to the Skyliner at each of the terminals. I would recommend planning this into your schedule once you gauge how busy they are during your trip. Every time of year will vary, but guests that I spoke to in the food court area that had used both the buses and Skyliner in the morning said to allow an additional hour in the mornings to navigate transportation before you will get to your destination.
Shopping
Everything Pop was a great gift shop and I love this layout of having the gift shop directly before the Food Court. We found it fun to walk around and look at souvenirs while we were waiting on our mobile order. We also thought it had a great selection, and found a number of things we had seen in the theme parks and were thinking about getting – so that we didn't have to make a special trip over to Disney Springs to pick them up!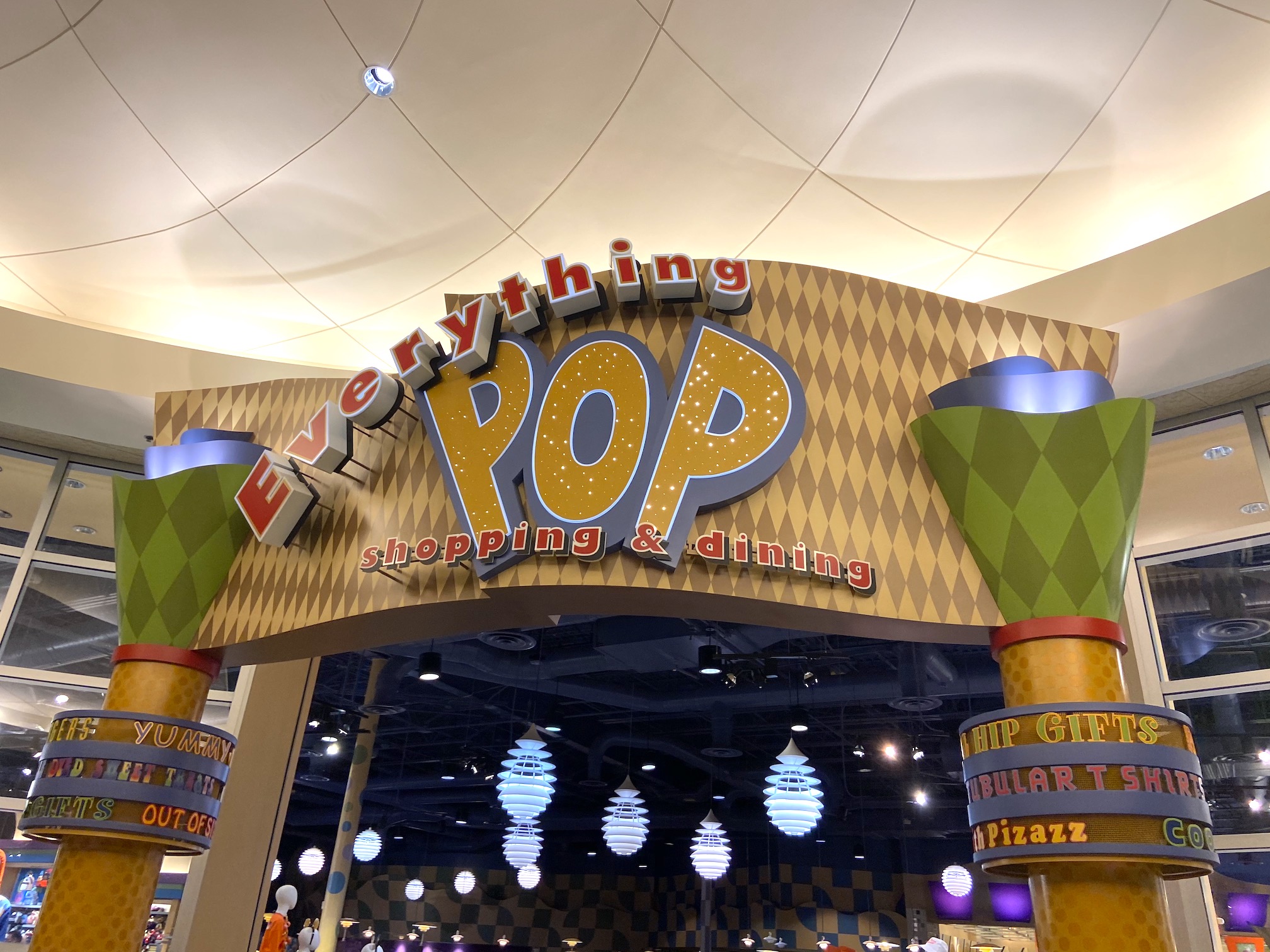 What Wasn't A Plus to Staying at Pop Century?
As with anything in life, there are a few drawbacks to staying at this resort. Let me discuss my thoughts on these so you have a fair comparison.
Small Room Sizes
While there are a number of positives to staying at Pop Century, there is one BIG (or rather – small?) drawback in the room size. The room sizes were noticeably smaller than any room in the Moderate category, and what's more direct line comparison, felt smaller than any Value we had ever stayed at as well because of the larger bed sizes at Pop Century. It's worth noting that when we had stayed at other Value Resorts, it was with the pre-renovation room style.
Being able to pull one of the beds up is a nice touch to be able to get more space in the room when it isn't needed, however this is just not going to work for every family and wouldn't be the preference for ours. They have started changing over rooms in the Value category to this configuration, so this would be a consideration at any Value Resort with the renovated rooms.
With a relatively small price difference, our family would likely chose a Moderate category room to have a bit more space to spread out. That being said, the small room sizes may not be a huge consideration for trips where: you are rarely in the room; it is a couple's trip and you do not have kids along; you get adjoining rooms to spread out kids and adults; room size is not a huge consideration for your family.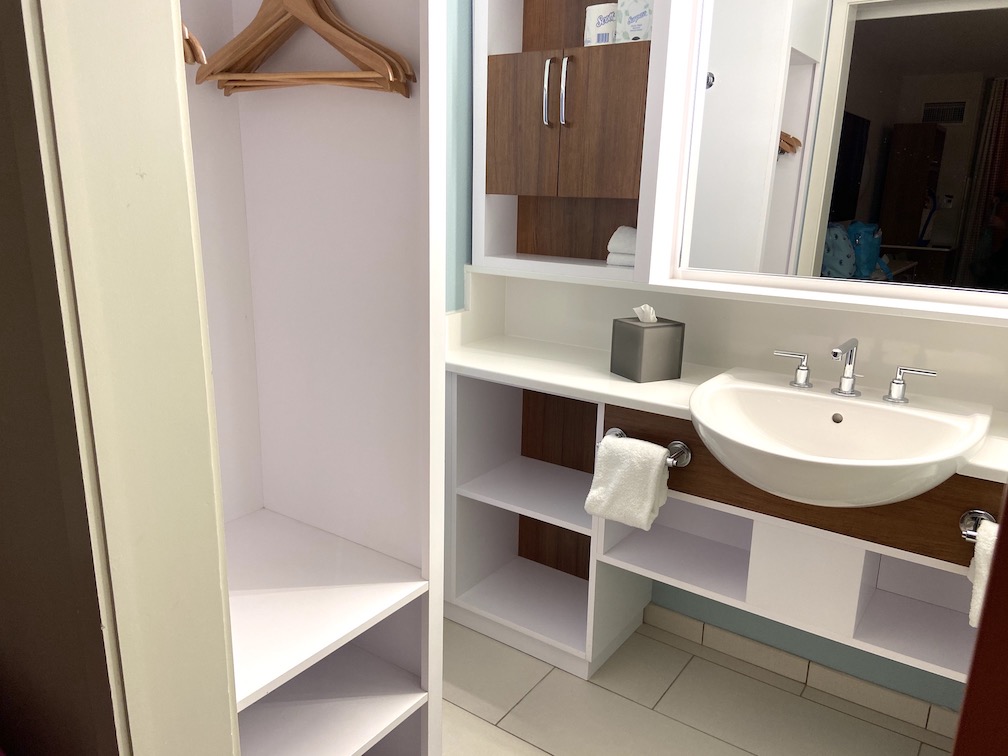 The vanity area was adequate, but again tight on space for our family of four. We had to coordinate getting ready times since the space only allowed for one person to get ready at a time. Which is not impossible, but does add an interesting scheduling element to the trip! We were able to fit all of our clothing items that needed to be hung up on the rod and our bathroom items around the vanity, but we definitely used every inch of available space!
In the end, Pop Century is great because it is AT Walt Disney World and feels very Disney. So if your main objective is just to be in the right place (Walt Disney World!) then I can see where the room size would be of lesser consideration.
Transportation
This one is honestly a pro and a con to staying at Pop Century… because while the Skyliner is very convenient – when you couple the large amount of rooms at this resort, it still results in longer lines for transportation. Mainly due to social distancing under current conditions. We personally used our own vehicle while we were there, so this was not an issue for us. However guests I talked to in the mornings said that only a few families per bus were able board due to social distancing, and to allow an hour in the morning to be able to get to your destination. Your experience may vary depending on the time of year you visit, however this is something to keep in mind if you're not going to have a personal vehicle available.
Additionally, the Skyliner is definitely a bonus to staying at this resort – however the configuration of the terminals is something to note. If you're staying at Art of Animation or Pop Century, don't forget you'll have to stand in line TWICE in the morning to board Skyliners… once at the Skyliner Terminal at the lake right by the Pop Century Resort, and then again at the Skyliner hub at Caribbean Beach Resort, where you board the Skyliner Line that takes you directly to Hollywood Studios or boarding the Skyliner route to EPCOT, which loads at Riviera. Either theme park you're going to, makes it to where you're standing in a second line to board the Skyliner at Caribbean Beach Resort or Riviera potentially, if lines are stacked up in the mornings at park opening times.
How it Stacks Up Against Other Disney Resorts
We have stayed at Walt Disney World Resort across all levels – Value, Moderate, and Deluxe. Each level presents its own pros and drawbacks, and I think that which resort is the best fit for your family depends on the goals that you have for your trip, the budget you're wanting to stay within, and how often you may return to Walt Disney World.
Compared to the other Value Resorts we've stayed at (All Star Movies, All Star Music, and Art of Animation Little Mermaid Rooms – although I personally feel like Art of Animation is in a category of its own) – Pop Century holds it owns and brings exactly what the name implies… Value.
Personally, I can see our family staying at Art of Animation the most out of all of these resorts in the future – however probably in a more expensive room in one of the family suite areas – either Cars or Nemo sections. On our trip, we stayed in the Little Mermaid rooms, which was a close size comparison to the rooms at Pop Century. Overall, the theme is more in line with our preference at Art of Animation, but both resorts feel similar.
All Star Resorts compared to Pop Century is a tougher comparison these days. Pool wise and food wise, I feel like all of the Value resorts stack up very similar, but now with the addition of the Skyliner – that is definitely an added bonus to Pop Century and Art of Animation. Overall, I would not rule out any of these resorts if the price was right and I needed a quick fill-in day coming back from a cruise or similar scenario. Our personal family ranking out likely be: Art of Animation, All Star Movies (just narrowly inching out Pop Century), Pop Century, and then All Star Music.
We've also stayed at most of the Moderate level resorts and given a close price difference between Pop Century and any moderate – I think I would go ahead and pay the price difference to get the increased room size and a bit more amenities of the Moderate category resort.
We've personally stayed at Caribbean Beach Resort, Coronado Springs Resort, Port Orleans Riverside, and Port Orleans French Quarter. Out of these resorts we would stay at any of them again because the moderate configuration works well for our family, with our two booking favorites being Caribbean Beach Resort and Port Orleans Riverside – we have stayed at both of those resorts multiple times.
Hope you enjoyed this look at Pop Century Resort! If you want to see more, watch my YouTube Review on Pop Century Resort:
And you can also check out the daily vlogs from our recent trip to Walt Disney World:

** This is not a sponsored blog post. All opinions are our own.