Given the circumstances of being home more this Spring, I've turned to Amazon Fashion to find fun and comfortable items to mix into my wardrobe. I also live in Alabama, which starts getting incredibly hot in the mid-Spring timeframe. So I looked for items that would be good to layer and work in the heat that is coming our way! Below are some of my favorite finds from Amazon, to wear while working from home, staying at home with the kids, and even for travel – once we are able to do that again!
** Please note that links in this post are Amazon affiliate links and I may receive a small earning if you purchase items from these links. 
Here are some of my favorite fashion finds on Amazon!
These kimonos are some of my new favorites for summer. They are light weight, colorful, and are easy to toss on over a tank top to feel put together. I purchased these in a variety of colors to mix and match this summer!
Direct link – Palm Kimono
The gray floral is another great print that you could dress up or down, and we would be appropriate for the office or travel as well!
Direct link – Gray Floral Kimono
Long flowy tanks are perfect to go under the kimonos, or they work great by themselves. Toss on a long necklace and some jeweled sandals, and you have a great go-to outfit for spring and summer!
I especially love this long tank top in both bright colors and jewel tones on Amazon!
Direct link – Teal Flowy Tank 
And this criss cross front tank top is perfect in either black or white, for the perfect basic tank top to go under cardigans.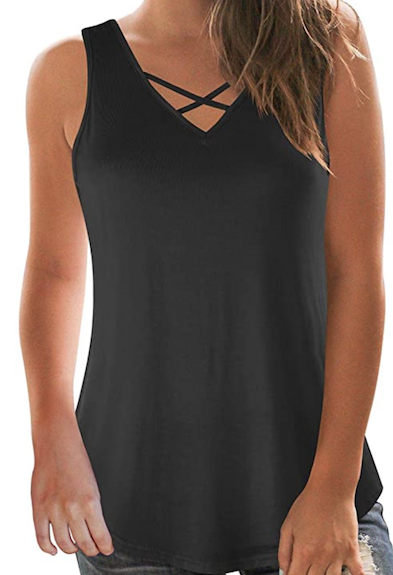 Direct link – Criss Cross tank
To finish off the look, two of my favorite shoe finds on Amazon right now are this pair of flats and sandals! The flats come in a unique range of colors and are perfect for running errands.
Direct link – Bright Flats
The jeweled sandals are a great way to add some extra glam to a casual outfit!
Direct link- Jeweled Sandals
Check out my full list of Amazon Finds at this link: https://www.amazon.com/shop/beingmommywithstyle
As soon as all as all of the different wardrobe refresher items arrive, I'll be sure to share a try on haul on YouTube! Have fun shopping Amazon in the mean time!

** All opinions are my own.