Today I'm sharing more helpful tips to make your next Disney vacation the Best Vacation Ever! Make sure you subscribe to our YouTube channel and get notifications to get notified of all of our new videos
PIN This:
Favorite Rides at WDW
Watch our latest video on YouTube, and if this video helped you with your planning – make sure to LIKE this video because it helps other people find it as well!
It's no secret that we love some great Disney dining, shopping, and snacks in the parks – but we also really love all of the rides as well! Each person in our family has their own favorites, and a number of the rides at the different theme parks are staples for our family to ride each time.
Today I'm going to share our family's favorite rides at each Walt Disney World Theme Park, and some tips on how to ride them and the best times to ride them as well!
Magic Kingdom
Our first theme park today is the classic – Magic Kingdom! This is the one park that everyone usually goes to at least once during their stay, and you're going to need at least one full day to see everything and do everything at this park.
For our family, it would be tough to fit in every single ride there in one day since we do like dining and some leisure time in the parks – but we have our favorites we go on each trip.
Seven Dwarfs Mine Train is one of our family's top favorites and this is one we typically are willing to stand in line in every trip. Back when FastPasses were still a thing, I would try to get a Fast Pass for this ride first thing and make it a priority to work around our other dining and reservations in the park…
Now that FastPasses currently aren't being used, this one is a bit harder because you have to stand in line – but my tips would be either arrive very early to get in line right at opening, or wait until later in the day after the morning shift has cleared out. We like to tour by taking a mid-day break, so it works well to check back on this longer wait rides in the late afternoon or evening after the park has started clearing out.
Another family favorite at Magic Kingdom is Big Thunder Mountain Railroad. On recent trips the lines have been quite short and this is a fun alternative when some of the other fast rides have longer wait times.
For great "filler" rides, or lines that typically may have a shorter queue, we prefer Under the Sea ~ Journey of The Little Mermaid to see Ariel & friends in this fun themed ride. We love the slow moving clam shell rides and it is just the right amount of music without too much repetition… looking at you, It's a Small World. 
One of our more obscure "must do" rides at Magic Kingdom is Goofy's Barnstormer in Fantasyland. A lot of times people may skip over this one because it seems like a little kid ride, but my girls have loved this one since they were little and always want to ride it again. It's a quick ride, with some drops and moves fast – but it is always a fun time!
Dumbo also get a shoutout as being our favorite classic ride. We usually ride this one on every trip and I've gotten some of my favorite all-time parks footage on this ride. Natalie reacting to being up in the air flying as a preschooler is one of my favorite Disney memories.
So those would be a our top picks at Magic Kingdom, although it's a pretty solid park all around for rides, food and entertainment. Next up, is one of our favorite theme parks – Disney's Animal Kingdom.
Disney's Animal Kingdom
Disney's Animal Kingdom is un-affectionately called a "half-day" park by a lot of folks, but it has actually become one of our family's favorite parks throughout the years and actually one of the few parks we do NOT take a mid-day break to leave and come back into the park.This is mainly due to its earlier closing time than other parks and we genuinely always have enough to do here to be in the park open to close. 
Ride wise, this park does have some hidden gems and yes – I do consider the Kilimanjaro Safari a ride – and our favorite ride at that!
Riding through the savannah in a safari truck seeing real animals is one of the highlights of our day at Animal Kingdom and we usually try to do this one first thing after getting into the park. If there is rain expected on your trip, even better! We've found on the days where it was rainy that the animals were out and more active, instead of hiding to take refuge from the sun. In case you haven't noticed because I film them absolutely every time we show this ride, the giraffes are my favorite animal on the safari!
Expedition Everest is the bigger coaster ride at Animal Kingdom and an "on again off again" family favorite. Different kids have this down as a must ride at different times, and strangely this never seems to overlap. I'm always up for coasters, so I ride it with whatever child has deemed it necessary on that trip. Most recently this has been on Natalie's must ride list and on our last trip she brought home a stuffed Yeti to celebrate. 
When it's hot out, our family likes to ride Kali River Rapids, but only if it is above a certain temperature and usually right before we are going to be leaving the theme park. No one likes to walk around a theme park all wet.
I realize that I'm naming off almost all the rides there are to do in Disney's Animal Kingdom, but again I did say this was one of our favorite parks! TriceraTop Spin is one we usually always do over in Dinoland and it's very reminiscent of a Dumbo ride experience, which is probably why we like it.
I also can't do this video without mentioning Avatar Flight of Passage that is over in Pandora – The World of Avatar. This is one of my all-time favorite rides. I love this ride experience from start to finish, I just think it is amazing. I love the simulated flight rides as you'll hear in the rest of this video, but I think this one in particular was just executed brilliantly. Definitely worth a wait to ride it, but our family will not do the 3+ hour waits I've seen sometimes for this ride.
We've been very lucky to basically work out riding it a number of times with minimal wait.
All in all, Disney's Animal Kingdom is one of our favorite theme parks because of the variety of offerings and just the overall vibe at the theme park. Some of the new additions at the next park, have definitely moved it up the list though! 
Disney's Hollywood Studios
At Disney's Hollywood Studios, I think it is fair to say that new ride additions have changed the park experience the past few years. This is one park that went from having very few rides, to have a number of rides that are sought after – with the addition of Toy Story Land and Galaxy's Edge.
Our family are huge Star Wars nerds, so of course Batuu is one of our favorite places to hang out… but our favorite ride at Disney's Hollywood Studios may surprise you, it's actually…. Star Tours!
This ride has actually been at Hollywood Studios for years and my husband and I both remember riding this when we were younger, even before we had kids. This is something I know we are going to ride on every trip and everyone in our family loves this one. Like I said, I personally love the simulated flying rides – I also really love that in recent years they've changed this one to have multiple story lines so it keeps the experience a surprise.
The new rides in Galaxy's Edge are of course new favorites, but we've also been really lucky to have been able to ride Rise of the Resistance on every single trip since it has opened so far. We were at a few media events where we were able to ride it after hours, and since then I've gotten a ride number through the queue system as well. I will say it does seem like it leaves a bit up to chance and your cell connection as to whether you will get a ride queue number – but my best tip here is to have the page open and start refreshing at :58 before whatever time the queue opens that you're trying to get.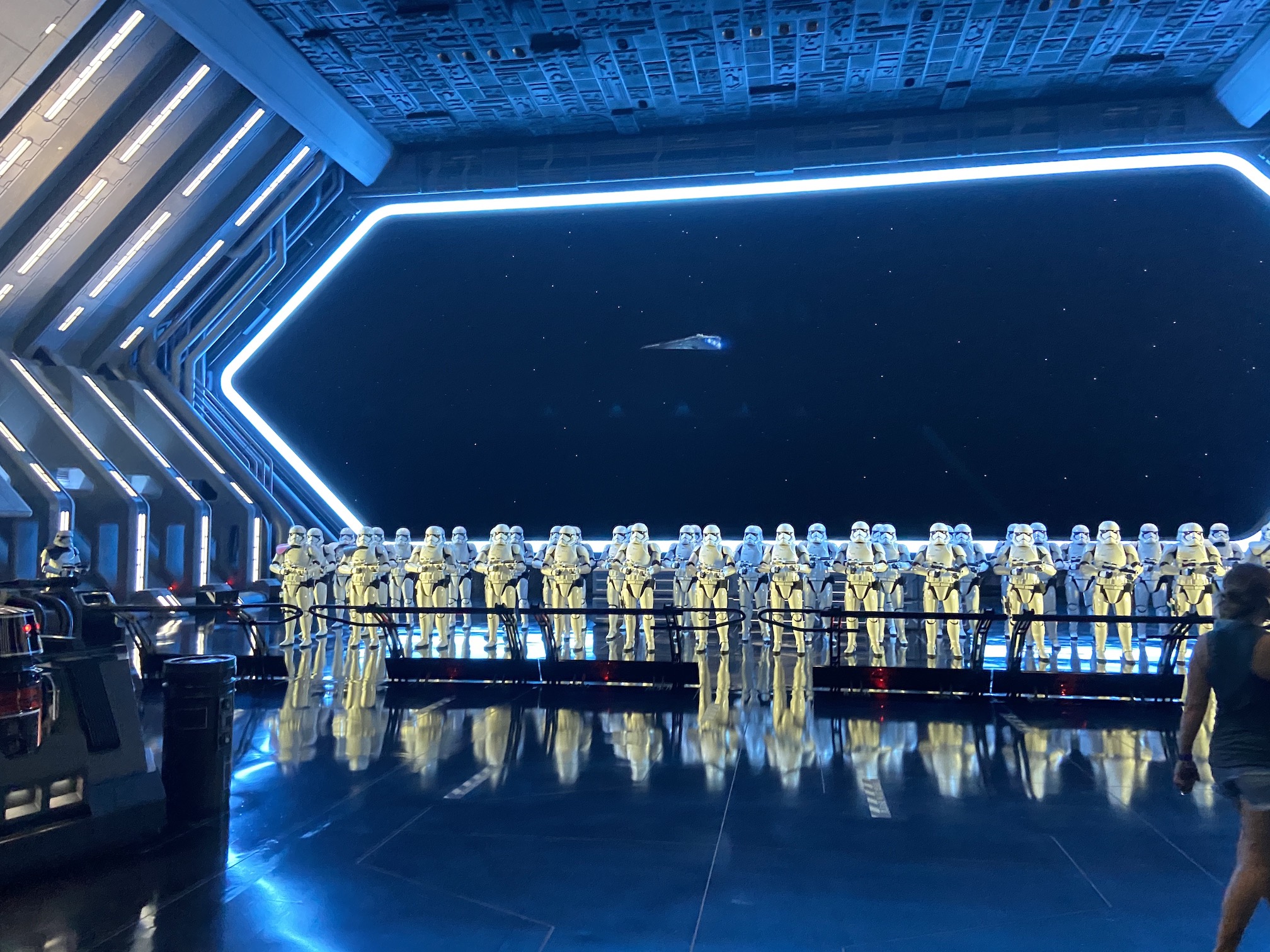 The second that it pops up as an option to select your party, don't hesitate and move as quickly as possible to reserve that time! This method has worked well for us.
We also love Slinky Dog Dash, but I will be honest and say we won't wait over an hour for this one. So on our past few trips we've focused more time hanging out in Batuu than anything. You definitely should watch our ride on video of Slinky Dog Dash though, because it's a fun one.
And next up is a park that is known more for food than rides… EPCOT – but it really does have some hidden gems that I feel like no one talks about?
EPCOT
My all-time favorite ride at EPCOT that our whole family loves as well is Soarin' and I've actually gone into the park with a hopper just to ride this ride before! This is another ride that I feel like gets classic status and is incredibly immersive. I love the scents that combine with the scenery and the feeling of flight.
Also at EPCOT, a kid favorite is Test Track – we make a point of trying to ride this on every trip as well. Both kids like this and the interactive play that is before and after the ride.
And yes, if you're there – riding the Frozen ride is a fun one – I remember this ride being one of the few EPCOT rides in its pre-makeover days, but for my little Frozen fan I have to admit this ride is definitely a draw! They've done a good job weaving this into the existing land and connecting with younger fans. 
Two more obscure and not talked about as much rides in EPCOT are some of our family's favorites.
Gran Fiesta Tour Starring The Three Caballeros is an adorable boat ride in the Mexico pavilion and it usually always has a short wait time. I honestly just don't think many people know its back there. It features Donald Duck, which I love his antics and has fun videos and music, my girls love this one.
Another ride I don't hear much about is a clam shell ride in EPCOT… did you know there was a clam shell ride in EPCOT? No? I think a lot of people don't realize this! The Seas with Nemo & Friends is in The Living Seas area of Future World, and it is a fantastic interactive ride that uses real views of the tanks in the Living Seas well. If you have ridden this ride and have younger kids, I think it's a must do – we also really love the Living Seas area and have spent literally hours there before. I think I need to do a video just on this area because I really do feel like its a hidden gem at EPCOT! 
I hope this has been helpful for you to think about what rides will be "must dos" on your upcoming Disney vacation! Let me know if you have any questions in the comments down below, and don't forget to subscribe to see all of our upcoming Disney trip vlogs as well!
Thanks for stopping by! Have a magical day!

** This is not a sponsored post. All opinions are my own.